Step 6 - Adding Clubs
The last step in this process of setting up your Conference is to add in your Clubs. One church may have multiple clubs (Adventurer, Pathfinder, and/or Master Guide), you will need to add each club separately.
From the lower left area of the YMMS website, select the General Secretary module and then click on A006 – Clubs. 

On the Club management screen locate the "New" button and click it. 

On this new "Register of Clubs" page, fill in all the fields for the new club. 
Church:
Select the Church
    
Name:
Add the Club Name
 
Ministry: [ Select the Department ]
 
Area:
Select the Area
 
Link:
Does the club have a website, Facebook page, or online calendar?
 
Zip code:
 
Address:
 
State:
Select the State
 
City:
Select the City
 
Club history
If you have any history about this club feel free to add it. 
Extra information
This is an extra box for you and the Club to use.
 
Foundation date:
Enter in todays date or the date the club was first organized.
 
Registration date:
Enter in todays Date or the date when the club was officially recognized for this Club season.
 
Ended in:
Enter in the last date of the club season.
 
Active:
If the Club is active this season, check the box.
 
Complete access:
DO NOT check this box unless this Club is for demo, testing, or Training. Checking this box will eliminate statistical information from all reports about this club.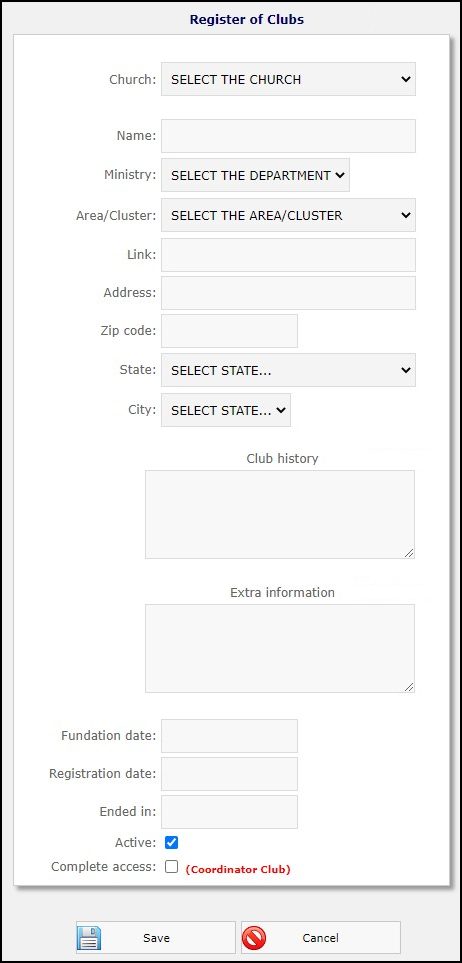 Click the "Save" button

  
You will be presented with the following message:

 
Click the blue "OK" button. 
 
You will be brought back, again, to the "Register of Clubs" page, but now with a map. If you know the exact location for this club, Click and Drag the red Pin () to the correct place on the map. Otherwise just skip this step.
 
Finally, click the "Save" button one last time. 
---