Step 4 - Adding Your Coordinators
It is now time to add in the Coordinators into YMMS that we can later add to your "Groupings" and "Areas". Start by accessing the "Users" module in the right most columns and selecting the "A009 – Users".


On the new page,  locate the "Register" button and click it.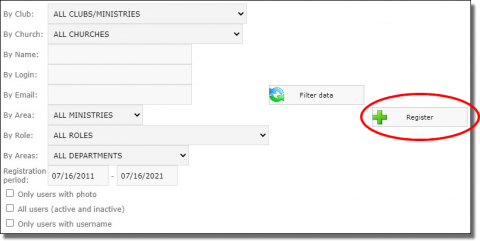 For the registration you will simply need to complete all the fields with a coordinator's information.
Club/Ministry:

Select your Conference. For now this is the only option but latter you will add in your clubs.

Role:
There are a number of roles to choose from but as you are think about Coordinators, these are the three options we recommend 

CONFERENCE - CLUSTER/DISTRICT COORDINATOR
CONFERENCE - STATE/GENERAL COORDINATOR
CONFERENCE - REGIONAL COORDINATOR

Full name: - if you require Adventist Screening Verification the name must EXACTLY match what they used in ASV   
Gender:
Baptized:
Telephone: Optional
Cellphone: Optional
Email:
State:
City:
Zip code:
Address and number: Optional
Username:

Consider using their "firstname.lastname"
Choosing a naming scheme like this allows you know exactly what a persons user name is without having to look it up

    Password:

Consider always setting this to the persons "

firstname.lastname123456". This password will be good only for the first login at which time they will need to change it.

By setting a password like the example you will be able to verbally tell a person what their password is without having to look it up. Once they log in they will need to change it and you will no longer know it.

Click the Save button

.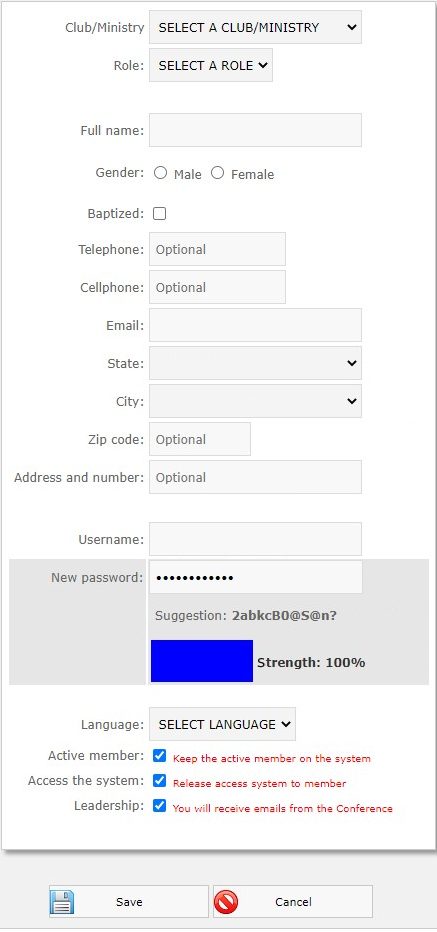 On the new page, towards the bottom, locate the newly added user and click the Modules icon (
).

On the resulting popup, at the top, select the "Blocked Modules" tab.

On the blocked modules page are several sections with dark gray headers. The title for each section is in the dark gray bars.
Locate the "Coordinator Modules" title. On the dark gray title bar and on the same dark gray bar, click the "All" link.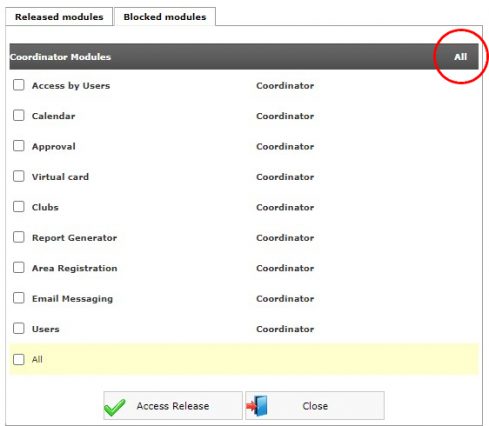 Finally click the "Access Release" button

---