When you first log into your Coordinator Account you will see the Home screen. In the top left corner of the page is your personal account information and right options Home (returning to the home page each time you click) and Exit (when he finishes his access to the CLUBS MINISTRIES MANAGEMENT SYSTEM).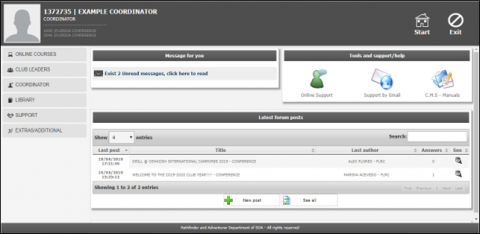 On the left side of the page are the Coordinator modules you have access to.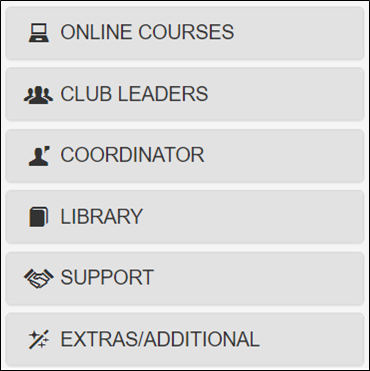 The following is a list of the submodules Coordinators should have. Is divided into two levels.
Modules for Club Leaders: Modules allowing the Coordinator to view the data of the members of the district and have access to reports.
Club Leaders Modules

Submodule

Module

Classes

MG Candidates

Members

MG Candidates

Report

MG Candidates
Modules for Coordinator: Modules that allow you to view, create, and verify data in your area/region/cluster, send emails to your members, and have access to reports.
Coordinator Modules

Submodule

Module

Approval

Coordinator

Calendar

Coordinator

Clubs

Coordinator

Email Messaging

Coordinator

Register Cluster

Coordinator

Report Generator 

Coordinator

Users

Coordinator

Virtual Card

Coordinator